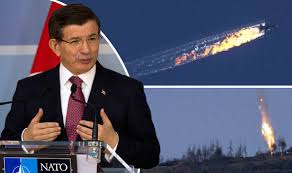 Turkey's shooting down of a Russian fighter jet ignited fresh geopolitical fears weighed most Asian equities lower, while some energy plays and
oil prices
experienced gains. After an initial slump during
Asian trading
hours, Brent and Nymex that had rallied as much as 3 percent overnight on news of the downed Russian warplane in Syria would later rise by 0.4 percent and 0.5 percent respectively. A lot of focus has been on Asian travel-related
stocks
since the downing of the plane, one in a series of recent events that paint an escalation of the Middle East conflict as Russia continues to bomb ISIS targets inside Syria in support of President Bashar Al-Assad.
Turkey downed the jet on Tuesday after claims it had violated Turkish airspace but Moscow has denied the claims. President Vladimir Putin termed the shooting down "a stab in the back," warning that the action would have serious consequences for Turkish-Russian relationship. According to a statement from the While House, the U.S. and NATO are both in support of Turkey's right to defend her sovereignty.
On Wall Street, a mostly flat finish overnight added to the weak situation in Asia, with the S&P 500 index and Dow Jones Industrial Average closing up 0.1 percent each while the Nasdaq finished with little changes. While Tokyo-listed Japan Airlines dropped 0.9 percent, Singapore-listed Singapore Airlines slumped 0.7 percent and Australia's Qantas shed 1.6 percent, energy plays rallied with Australia-listed LNG gaining 7.4 percent while Santos jumped 3.5 percent. The Hong Kong-listed Cnooc rose 3.2 percent as Japan's Inpex ticked up 1.2 percent.
Chinese Stocks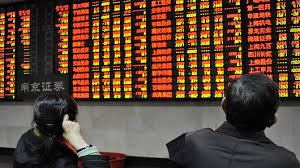 While the Shanghai Composite benchmark gained 0.3 percent, the Hang Seng Index slumped by 0.2 percent. But brokerages experienced a dip in spite of news that China's securities regulator had lifted rules imposed in July which obligated brokers to buy more shares than they sold per day for propriety trading. The rules had been imposed after a market rout that had lasted for months."This may improve opinion towards brokers and the Chinese market as emergency measures during market rescue get phased out gradually," said Credit Suisse in a note on Wednesday. "That notice further supports evidence that regulators could perceive the market to have returned to normalcy, and we believe such a factor will reduce investor concerns relating to improved sentiment and policy risk on China brokerages."
However, brokerage shares still fell on the mainland, with Haitong Securities falling 0.2 percent while Shanghai-listed Citic Securities dropped 1.5 percent. Cheung Kong Infrastructure Holdings of Hong Kong dipped 0.7 percent after a lost a bid to buy the utility firm, Power Assets Holdings.
Nikkei Slump
The Nikkei 225 slumped 0.4 percent, shedding the previous session's gains after minutes of the Bank of Japan's meeting of October 30, where members said Japan's economy would likely grow at a slower pace in 2017 due to a raise in sales tax, dampened sentiment.
Heavyweight electronic exporters dipped as Sony and Panasonic shed 1.9 percent and 1.7 percent respectively. After a 25 percent, three-session leap in shares of Sharp owing to news that banks may forgive the firm's loans, the stock obliterated a nearly 15 percent intra-day rise to close flat. Yahoo Japan would shed 1.5 percent after ratings agency S&P had reviewed the firm's outlook from stable to negative owing to a weak operating performance.
Kospi Declines
Seoul's Kospi traded on a slim range going down 0.4 percent. Car makers lost ground, with Kia Motors shedding 3.4 percent as Hyundai Motors fell 2.3 percent.
ASX Falls
Stocks in Australia ended low as several banks traded lower. Three of Australia's four biggest banks, NAB, ANZ, Commonwealth Bank of Australia fell 0.8 to 1.2 percent.
Emerging Markets Gain
Southeast Asian stocks managed to duck the Asia-wide weakness with the Kuala Lumpur Composite, Philippine PSI and the Jakarta Composite each gaining between 0.2 and 0.7 percent.