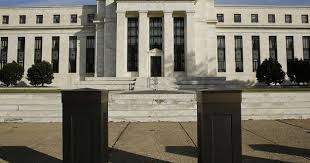 As the
Fed gears up to increase interest rates in December
, the European stock market fell this Friday. The market slide extended the previous session's as investors reacted to weak Eurozone data plus lingering concerns over China.The weaker economic figures have added downward pressure with traders worried over a slump in the commodities markets. Third-quarter figures that are set to be released on November 13, 2015 show how consumers are far behind the 0.3% growth figure that had been anticipated for the 19-country economic zone.
Asian stocks also slid following sharp losses on Wall Street as the slump in the commodities markets discouragedinvestors from trading riskier assets.The slump in commodity prices has been caused largely by a weaker Chinese demand for Equities.
THE SCORE:
In the Eurozone, Frankfurt's DAX 30 index slipped 0.8 percent to 10,693.69, while the Paris CAC 40 slipped 1.1 percent to 4,803.71.Britain's FTSE 100 index dropped 0.9 percent to 6,121.43, with the FTSE and CAC both ending Thursday's trading sessions with losses of almost 2.0 percent.Late morning deals had London's benchmark FTSE 100 index down 0.7 percent when compared to Thursday's closing session. In the U.S, stocks were poised to slip on the open asthe Dow and S&P 500 futures each slid 0.2 percentdown.Meanwhile, bailed-out Greece contrasted sharply, with 0.5 percent in the third quarter as capital controls threw the economy into disarray.
FED FOCUS:
The dollar rose against major rivals after top Federal Reserve officials, Chair Janet Yellen and Vice Chair Stanley Fischer, cautiously hinted at an interest rate hikeon Thursday. Little clarity was, however, not offered when such a move would've ended the era of stimulus policies that have boosted stocks. This though hasn't stopped a growing number of investors from pricing-in an increase during the U.S. central bank's meetingin December. The president of the Federal Reserve Bank of New York,William Dudley, said "it is quite possible" conditions set by the Fed's policymakers that would begin to "normalize monetary policy could soon be satisfied."
EUROZONE WEIGHED DOWN:
Official figures from the third-quarter show the Eurozone economic zone is largely behind the 0.3% growth figure that had been anticipated, a slowdown from 0.4 percent recorded in the June-September period. Most countries slowed down, with the economy in powerhouse Germany cooling while France returned to expansion. Although the figures are disappointing, they do cement expectations that the European Central Bank will soon expand its stimulus program.
ASIAN TIGERS SLUMP:
The region's markets ended in a slump with Hong Kong's Hang Seng falling 2.2% to 22,396.14, as the Shanghai Composite Index in China slumped 1.4% to 3,580.84.Japan's benchmark Nikkei 225 index retreated 0.5% to 19,596.91, while the South Korean Kospi fell 1% to 1,973.29. Across the ocean, Australia's S&P/ASX 200 shed 1.5% to close at 5,051.30. Other benchmarks indices that fell include Singapore, Taiwan, New Zealand and the Philippines.
ANALYST TAKE:
Jonathan Loynes of Capital Economics hinted, "The figures add further support to the already very strong case for additional policy stimulus from the ECB at its next meeting in December".
COMMODITY CRUNCH:
Investors have been put off by the deepening slump in metals, oil plus other commodities. Copper prices for this year fell 23 percent while crude oil futures are down 2.7 percent on Thursdayafter the U.S. government said crude stockpiles grew by 4.2 million barrels last week. Raw material prices which are priced in dollars aren't so attractive while the Fed readies for an interest rate hike. On the other hand, European and Japanese central banksare set to maintain low rates as they consider a roll out of more stimulus measures. Such moves will result in a stronger greenback, in turn making dollar-denominated contracts more costly.
CURRENCIES:
The Euro fell to $1.0758from $1.0776 in the previous day's trading as the yen dipped to $122.77from 122.89.